---
Podcast: Play in new window | Download
Subscribe: iTunes | Android | RSS
---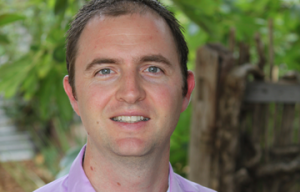 In the first episode of the Property Developer Podcast, the show's host Justin Gehde shares why he set up the podcast, discusses his townhouse development and outlines what you can expect from future shows.
A little background
I've been involved with property developing for about three years, which is not really that long although it feels longer, and I am currently working a 20 townhouse development in the outer eastern suburbs of Melbourne.
We are about to start construction in the next few weeks. Funnily enough this is my first development, and the purchase of the site was my first real estate transaction.
How did I get here? Well it's a long story with a few twists and turns, but what developing story doesn't have twists and turns, right?
My background is actually in corporate communication, so working with large organisations to help them communicate more effectively with their staff and other interested groups. I did that for about 15 years.
About five years ago I decided I needed to take greater control of my future and I started thinking about what I would like to do, and after a lot of reflection, I realised that I loved property. But I didn't want to buy an investment property and sit on it, waiting for it to grow in value over 10 years, I wanted something where I could accelerate things.
Then one day I was listening to a podcast and heard a guy talking about property developing, and it sounded really interesting, and I thought 'that's it'. So I got in contact with the guy on the show who had done a few developments and joined his mentoring program. And so started a very interesting developing journey for me.
The great part about the program was that it taught you how to follow a process to deliver a development. And importantly taught by someone that was actually doing it themselves. Better still the program was based on you doing all the work and learning how to find out all the information you needed, so that you could be self sufficient, and continue to deliver developments for as long as you wanted to. So basically, the teaching a man to fish philosophy.
My first potential development site failed
I was originally looking for a site in the suburbs around the south east of Melbourne, which was closer to where I live, and zeroed in on the suburb of Frankston. At the time property values in the area were more in my budget, and I was looking for a site to do a 4-unit development.
I eventually found a nice block that was just over 1000sqm and secured the site with a due diligence clause, paid a bit more than I wanted to, but I thought I could get six small units on the site, similar to a block a few doors down.
So I set to work during the due diligence phase to ensure everything stacked up, and had a local drafty develop some plans for me. Unfortunately, the design the drafty came up with of six double storey units was too expensive to build for what I could resell them for, so I decided to pull out of the deal.
I then reassessed the area that I should be looking in and decided that the outer eastern suburbs of Melbourne would be a good place to target. And when I started looking at blocks big enough for a 4 unit development, at around the $400k mark, I noticed that if you spent another $100-150k you could get a bigger block that could fit 6 units on.
Development success
However, my budget wouldn't really stretch that far so I decided to see if I could take on a money partner. So I put a little proposal together and convinced someone to partner with me to do a 6 unit site in Croydon. And while I was looking for that site I came across a very large site in the neighbouring suburb of Mooroolbark. Initially I thought it was too big for what I had wanted to do.
It was nearly 3000 sqm and located close to the heart of the suburb. It was a deceased estate and had been passed in at auction a few weeks earlier with little interest since. This was around the bottom of the GFC so demand for property was quite subdued.
After a bit of research and talking with my drafty I determined I could put 10 single storey units on the site, perfect for the local market and in good demand for older people looking to move into a more manageable property.
I convinced my partner that we should go a little bigger and we managed to secure the site, that was in mid-2013. We then submitted an application to the local council for the 10-units.
And you will never believe what happened next. Council knocked back our application on the grounds it wasn't dense enough! Can you believe that. Probably the first a council has ever knocked back a development application for not being dense enough!
Council said they wanted to see more terrace style dwellings or an apartment block. So we went back with a proposal for a 14-unit development with 4 terraces along the front of the block.
And believe it or not, they knocked it back again for not being dense enough. They said they wanted to see at least another 4 or 5 dwellings on the site. At this stage we had lost about 9 months of time, I thought council was crazy and the project was getting way bigger than I ever intentioned.
Still I ploughed on. At this stage I decided to bring on a new design team and hired an architect that was recommended to me, and we got cracking on a totally new design.
What we settled on was a 20 townhouse development, with two rows of terraces containing 10 townhouses each, one row at the front, and one row at the back. Not exactly the type of product I wanted to offer the local market but I went with it.
At last council was happy with this proposal and approved our application at the start of 2015.
We put the properties on the market and given my background I was heavily involved in the marketing of them alongside our local agent. I built a website for our property business FastLoveHomes.com, made some videos, got our social media profile happening and did some Facebook advertising.
And by late 2015 we had sold 13 townhouses, hired a builder, secured construction finance from the bank, and we are now looking to start building before Christmas.
So many lessons learned
In many ways that is the short version of my developing journey. Along the way there have been many bumps, jumps and frustrations, a hell of a lot of lessons learnt and one great project slowly coming to life. While it hasn't been easy, I have really enjoyed the challenge and tried to have some fun along the way.
Which brings me back to why I started this podcast. In my hunger to learn about developing and find out how to become a really good developer, I was going out and talking to people involved in property developing. I really loved listening to their stories, and they all had such different views on developing, that I thought it would be so great to share this with people. And I have found that sometimes being a developer can be a lonely game, your family or partner doesn't necessarily understand what is involved or what you are working on, and most people have a pre-conceived idea of what property developers are like.
And so the property developer podcast was born. I will be bringing you the conversations I have with some of Australia's best developers, or people involved with developing, be they marketers, agents or consultants. All to help and inspire you to become a smarter, better and more profitable developer.
So whether you are doing a 4 unit site or a boutique apartment block, I am sure there will be something for you in every episode. So sit back and join me, as we start down this road together. I think it will be fun. Thanks for listening in.