---
Podcast: Play in new window | Download
Subscribe: Apple Podcasts | Android | RSS
---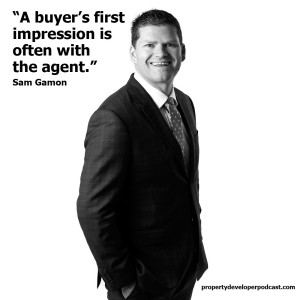 Sam Gamon is one of Melbourne's best real estate agents with some great ideas on how to sell property off the plan.
Sam is a Director from Chisholm and Gamon property. Sam has a long history of successfully selling existing stock and is now forging a reputation for doing the same with off the plan sales.
I thought it would be interesting to hear an agent's perspective on selling off the plan, and also probe for some ideas on ways you can market your next property development project.
We cover quite a bit of ground and Sam shares a couple of amazing things they have done to promote projects, and we discuss how you can stand out from the crowd when you come to sell your next development.
Here are there key points I took out of our chat:
1. What helpful events can you run to help buyers engage with your real estate development project and make a buying decision.
Sam mentioned how they ran sessions with an interior designer on choosing furniture for your new apartment. They also had events with architects where they discussed their design. They don't necessarily need to be flash or expensive, but helpful for your potential buyers. These types of events are great for creating an emotional connection between your project and prospective buyers.
2. Ask your agent, or check with other agents, for ideas on what buyers might like to have included with their property.
Sam mentioned things like gas points on balconies or taps for outdoor spaces, these little one percenters can help you stand out from other places that buyers are looking at. And as a developer you can easily overlook them.
3. Help your agent get excited about the property development project.
Get them involved as early as you can, provide them with good information and materials so they can get a handle on the project, and basically help make their job as easy as possible. Check in with the agent regularly and ask for feedback about what's working and what may need tweaking. Your relationship with the selling agent is one of the most important for the success of your project.
As always head over to iTunes and leave a rating, or check out propertydeveloperpodcast.com and leave a comment under each show's page.
Links
Chisholm & Gamon property
Elwood House
Justin's Latest Project Photos