---
Podcast: Play in new window | Download
Subscribe: Apple Podcasts | Android | RSS
---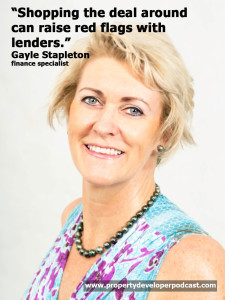 Cash and funding are two of the bedrocks of developing, so getting a handle on them is crucial to your ongoing success. And having the right person or team to help you get that funding is obviously very important.
I can only speak from experience about the hoops we had to jump through to get our construction finance and how much help our finance specialist provided along the way. And that person is who I am speaking with today.
Gale Stapleton is a former long-time ANZ bank executive turned developer's best friend, providing a specialist service on securing commercial loans.
In this conversation we cover issues like common mistakes developers make when applying for funding, what the lender is looking for in your submission, and how to ensure you can continue receiving funding for your projects.
I find understanding how funding works to be a moving feast so having someone to stay on top of it for you, and help you with it, is invaluable. Getting your financial affairs in order and keeping them that way will help you to continue delivering successful developments.
Here's three points I took out of our conversation:
1. Ask questions of your finance specialist
Gayle mentioned a couple of good questions to ask:
– what level of experience have you had?
– what have you been doing since you started broking?
what brought you into broking, how are they going to handle the transaction? Will they continue to help you through it or just introduce you to the lender?
– how many lenders do they have access to?
Gayle said she is surprised how rarely she gets asked about other clients she has worked with. This is a great way to establish credibility and whether your finance specialist has the relevant experience and provides good service. I know a consultant that provides a list of the immediate past 10 clients he has worked with and offers them up as references. He does this to show he has nothing to hide, and he finds potential clients rarely contact many of them to check on his performance. It seems just providing the list shows confidence. So, like most things in developing you need to ask the right questions.
2. Allow plenty of time to get your property development loan sorted
This is one I have recent experience with. It always takes longer to get your loan sorted than you think it will. We thought it would take 6-8 weeks, well it took way longer than that. This is where your finance specialist can help you identify and gather up documents that you will need to submit with your application, and also help push things along with the lender. Depending on the size of your loan you may also be dependent upon valuation and quantity surveyor reports, which could take several weeks, before the bank will even start progressing your application.
3. Make sure your real estate development project is operating with a profit margin lenders will be comfortable with
This seems to be a bit of a fuzzy line and is dependent on the value of your loan. I was taught that lenders pretty much demand a 15 percent margin on a project before they will loan you money. But it seems that figure may actually be higher. I know this can be hard to achieve in certain areas and on certain projects, so it may be worth discussing this with your finance broker to see what you need to do. Obviously if you have good equity it can change up the numbers so it depends on many factors.
If you have any finance questions you would like answered please post them on the property developer podcast website (propertydeveloperpodcast.com) under this episode and I will see if Gayle can answer it for you.
That's almost it for today. I'd love it if you could take the time to head over to iTunes and rate the show, or drop by our website for all the past episodes. Until next time may all your project profits be above 15 percent!
Links
Find Gayle Stapleton at http://stapletonpacific.com/
Justin's latest project photos
Here's some site shots from our townhouse project. The bore pier retaining wall had a shotcrete facade done to make it look nice. Next up is the drainage set out.