---
Podcast: Play in new window | Download
Subscribe: Apple Podcasts | Android | RSS
---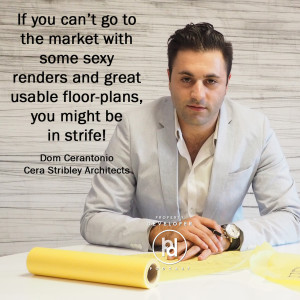 Leading architect Dom Cerantonio from Cera Stribley Architects shares his view on why design is such an integral element of property development and can often be the difference between getting a planning approval or not. Design can also effect demand for your product and influence how you are perceived in the market.
Listen in and you'll discover a couple of excellent tips during our conversation around how to qualify if your designer is right for you and your project, a great way to negotiate on fees, and why good design makes a difference and can reduce risk.
Based on the discussion with Dom, there's a few things I would definitely suggest to any real estate developer looking to find a new designer for their next project, and they are:
1. See if the designer will do a quick feasibility for you.
This will help you establish if they understand the market you are working in. They may charge a small fee for this but I think it would be worth it to determine what they think they can get on the site and how they assess the local market.
2. Ask the architect how they manage relationships with builders?
This is a great question because the builder is so important and the relationship between the architect and builder is critical to getting the build done as quickly and efficiently as possible. So, ask how do they ensure they stay on good terms? Even ask to speak with a couple of the builders they are currently working with.
3. Find a designer who has a high quality of design in their work.
It is better to find a designer who has a history of producing high quality work than try to push someone to come up with a better design. Most designers should be able to provide plenty of visual examples of what they have done. Importantly Dom suggested you ask whether the end result was over and above the developer's expectation or if it was less.
Quality of product is really important so it is prudent not to mess about on it. What would happen if you spent 10-15% more on design? Would you get your permit faster, would you sell quicker, would you get an extra 10-20% on your end sale price? I reckon it would be worth it.
4. Negotiate on scope not on fees.
Don't just focus on lowest cost when assessing design proposals. I like the idea of negotiating around scope rather than simply lowest cost, as I mentioned if you screw people down too far it will foster resentment which will show up somewhere along the line. So discuss with the architect how the fee structure could be different if the scope shifted, and see what you could do or get someone else to do. And remember you may save time and ultimately money by investing up front in great design from a good designer.
So there you have some pretty valuable tips and ideas that could save you a lot of time and money, and deliver higher returns. If you would like to find out more about Cera Stribley Architects you can check out their website at www.cerastribley.com
That wraps up another show, head over to iTunes for a review if you got some value from this episode, or stop by the Property Developer Podcast website for more developing gold.
And until next time, may all your developments look sweet and sell fast.
Links
Cera Stribley Architects – www.cerastribley.com