---
Podcast: Play in new window | Download
Subscribe: Apple Podcasts | Android | RSS
---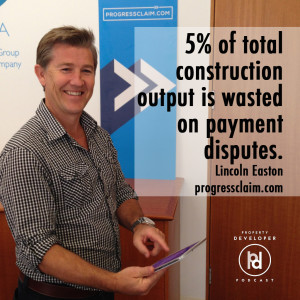 Keeping your building team happy and content is critical to ensuring our property development project gets finished on time and within budget. Making sure everyone gets paid on time for the work they have done is a sure fire way to keep construction on track.
Today I speak with the creator of a service that could greatly streamline and improve the efficiency of your development project.
It is a service called progressclaim.com and it basically does what it says on the tin, and that is it electronically manages the monthly progress claim process.
Now I am sure you know how important it is that people get paid for their work, and ensuring the builder and the subbies get paid for work completed is critical to your project 1) getting built , and 2) you staying on good terms with your building team.
I have been going through the monthly task of ensuring the progress claims come in from the builder, get assessed by our architect and then reviewed by our quantity surveyor, and I know there is a lot of mucking about chasing detail, getting forms signed, or making sure spreadsheets are completed correctly, so I know the hassle that is involved. And most of it is done by email or phone calls, with mistakes and confusion so easy to happen. So when I heard about progress claim.com I was really interested in it because it seems to solve a real problem that exists in the building industry.
So I had a really good chat with the CEO of progress claim.com Lincoln Easton, I'm sure you will enjoy it too, and it may be a solution that your team considers to help smooth out the progress claim process.
In this chat we discuss the common issues that come up with progress claims, the impact they have and why it is important to get them right…
It sounds like progressclaim.com sounds like a good solution to a thorny, painful problem. I certainly know that getting the monthly progress claim paperwork and details sorted out is time consuming and at times frustrating.
I did take a couple of things away from my conversation with Lincoln, and they are:
1. Stay on top of the progress claim process.
I can see how easy it is for things to veer off course quickly and over small misunderstandings or poor communication, these things can snowball and before you know it the builder is grumpy and you have to spend time unscrambling the egg…
2. Make sure you have someone reliable managing your progress claims.
We have our architect managing the contract with the builder and that includes handling the monthly progress claims, we also have the quantity surveyor go over the claim and assess if everything being claimed has been done. Having a trained set of eyes go over the claims and talk with the builder about any potential issues or discrepancies is hugely helpful. It means you can nip issues early and keep construction and relationships on track!
3. Keep in mind all the people who may be involved on the work site.
Consider the paperwork and time they have to spend on ensuring they get paid. Things like filling out spreadsheets and sending them through to the builder, paying their staff and keeping their cashflow going are all important to these small business owners.
And it is also beneficial for you to consider what an important role you are playing in all these people's lives by creating jobs and income through your project. When you stop and think about how many lives you touch as a developer it can quite humbling and also rewarding.
On that positive note I am going to sign off from this episode. You can check out progressclaim.com at their website – progressclaim.com
You can also head over the propertydeveloperpodcast.com for past episodes or to leave a comment about the show. Or drop by iTunes and leave a comment and rating, I'd be grateful if you did.
Until next time, may all your progress claims go smoothly!
Justin's latest project pics