---
Podcast: Play in new window | Download
Subscribe: Apple Podcasts | Android | RSS
---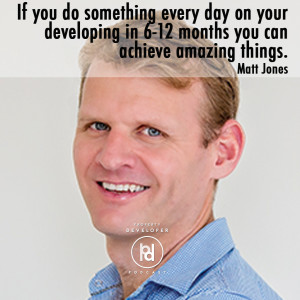 Property entrepreneur Matt Jones, from the Property Resource Shop, has an interesting story to tell about how he ended up doing developments. He has trodden the well worn path of renovations to subdivisions, but along the way he has set up his own property network, grown a membership website and been involved with lots of development deals. So much so, that he has taken time out with his family to live in France for a couple of years. Tres Bon!
In our conversation we cover a lot of ground including the importance of your mindset to creating the life that you want, how to stay focused and what you need to do take that developing business of yours to the next level.
I hope the conversation with property entrepreneur Matt Jones, inspires you to think about getting to the point where you can take yourself off to another country for a few years to immerse yourself in the culture and reflect on your success.
I really like how Matt understands his purpose and uses that to guide his decisions, I'd encourage you to do the same.
I took quite a few things out of our discussion, and here are my top 3:
1. Be laser focused about why you are a property developer
This may sound a bit nebulous but it all boils down to why are you doing things. Why do you want to be a developer? Why do you want to deliver successful projects. Is it to spend more time with your family? Buy some freedom? Buy a Ferrari? Whatever is most meaningful to you is what will continue to inspire you each day. You need to find it.
2. Be consistent with your developing effort
I like this idea of consistency. Matt talked about consistently using your time. So if you have 7 hours a week, do 1 hour a day, not all on the weekend.  If you can allocate time every day to do things that will help you get there, sooner or later you will… as the saying goes.. you get out what you put in…
3.  Don't be too keen to get a property development deal on the table
I know what it can be like finding a site and really wanting it to work, and massaging the numbers to get it across the line. However, you need to develop the ability to say no. Don't force a deal to work. Don't fudge the numbers or think you can do more than you actually can. Stick to your numbers and keep working on the next deal until it clicks. And then pull the trigger.
Okay, that's all for this show. Thanks again for listening in. Drop by the website to leave a comment or check out my latest projects pics. You can find me Instagram too, at Property Developer Podcast (https://www.instagram.com/property_developer_podcast), join the fun as I regularly post pictures of sites and developments I see around the place.
And of course, drop by iTunes and leave us a review, I would be grateful if you did. Until next time, my all your croissants be filled with chocolate… au revoire.
Links
Property Resource Shop – https://www.propertyresourceshop.com
Property Developer Podcast on Instagram – https://www.instagram.com/property_developer_podcast
Justin's latest project pics