---
Podcast: Play in new window | Download
Subscribe: Apple Podcasts | Android | RSS
---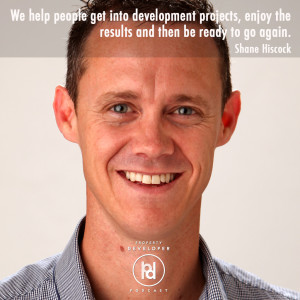 Scaling a property development business can be challenging due to the financial and process requirements that enable you to start and successfully finish projects. Property developer Shane Hiscock shares how he has grown a business from zero to $40 million worth of projects in just five years.
Shane is doing multiple joint-venture type projects with investors, and has gone from doing one new home build project, to now having 20 projects underway.
He has learnt a lot about managing partners, setting up joint ventures and the mindset you need to grow a developing business.
Books to help real estate developers
Shane also shares four books that he thinks will help property developers take their business to the next level. They are:
1. Leveraging the Universe – Mike Dooley
2. Power of the Subconscious Mind – Joseph Murphy
3. E-Squared & E-Cubed – both by Pam Grout
4. Scaling Up – Verne Harnish
I think Shane is taking his developing business in a really interesting direction and I'm sure it will be a success. It goes to show how far you can come in 5 or 6 years, if you persist and continue to deliver value for people.
Tips for property developers
I enjoyed my conversation with Shane, and here's 3 points that stuck out for me:
1. Take the time to expand your mind
I believe it is important that you keep your brain active by continually learning something new. That may be reading a biography, attending a seminar or doing a formal course. It's a great way to expand your thinking, learn about alternative concepts or just be inspired by what other people have achieved. If you are not improving then you are going backwards, and there is so much awesome stuff to discover in this world.
2. Value your skills, abilities and time
Shane talked about the lesson he is learning about valuing his skills and contribution. This is always good to remember, as you need to set how much you think you are worth, and following from my first point about expanding your mind, the more you learn the more value you will be able to bring to the world, and thus charge for your value accordingly. And this also extends to your time, use it well, and hang around with people that you want to emulate, soar with the eagles not forage with the turkeys.
3. Think about ways to better serve your customers by expanding your services
I like how Shane is looking to grow his business based on his existing customers needs. This horizontal and vertical expansion is a great method of understanding what your clients may need now but also in the future, and helping them achieve it. Have you ever thought about how you might expand your business offering to service your existing clients? It might be worth jotting down some ideas about how you could, you never know what might come up.
You can find out more about Shane via his LinkedIn profile https://au.linkedin.com/in/buyersagentbrisbane or his Facebook page at https://www.facebook.com/Shane-Hiscock-Property-388804914516499/
If you enjoyed the show, an iTunes rating would be awesome, or join me on Instagram at https://www.instagram.com/property_developer_podcast/ as I share my property developer porn pictures!
Until next time, may you squeeze on that extra unit…
Links
Shane Hiscock Property – http://shanehiscockproperty.com.au
Titan by Ron Chernow – http://www.booktopia.com.au/titan-ron-chernow/prod9781400077304.html?source=pla&gclid=CKba5vCdic0CFZAAvAodT54Aow
Justin's Latest Project Pics