---
Podcast: Play in new window | Download
Subscribe: Apple Podcasts | Android | RSS
---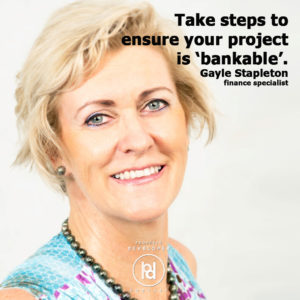 Ensuring your property development project is 'bankable' relies on lenders feeling confident that the development will be a success. Understanding how lenders assess your project goes a long way to helping you strongly position the deal from the earliest stages.
Past guest and finance specialist Gayle Stapleton shares some tips and ideas about funding, lending and one thing you can do to ensure your deal stacks up from day one. Gayle is a former long-time bank executive who left the dark side and now runs her own finance business called Stapleton Pacific.
Types of property development funding
In this chat we discuss the current lending landscape, take a deeper look at valuation and quantity surveyor reports, and cover some of the different types of debt and funding options out there, for example:
– senior debt
– junior debt or mezzanine finance
– preferred equity
– developer equity.
It certainly is a moving feast when it comes to development finance with lenders changing their appetite and amending their selection criteria all the time. And I think that is why a finance specialist can really help you stay aware of where the lending market is at and how to obtain the best deal.
Things to consider with real estate development finance
Here's a couple of things I took away from our chat.
1. Consider a higher cost of capital.
You may need to start factoring in higher capital costs when doing your project feasibility. With major lenders tightening their lending parameters you may be forced to use a blend of different debt types and paying higher interest rates. And considering interest rates were above 7% and 8% not many years ago, paying those kind of rates should be viewed in the broader context of what you are trying to achieve with your developing. Do you want to get in and out faster, or are you happy to complete a project, wait for it to all settle and then go again?
2. Look to engage a quantity surveyor and valuer to help with your initial project feasibility.
Gayle spoke about making your project 'bankable', which means ensuring that your total revenue and total development costs stack up. Having an early indication about this can let you know whether you are skating on thin ice, or have sufficient margins to weather a drop in values or increase in costs. And often you can use a firm that is part of the panel of approved consultants that the banks look to engage when they are assessing your funding application, so you can get out in front of that process.
3. Contemplate what you would do if a lender required higher debt coverage or introduced other hurdles.
I have come to understand that banks are in the business of making money through selling money, and they really hate losing money (don't we all!), so they will do pretty much anything to reduce their risk. That means at any point in time they can change their lending criteria, tighten loan conditions and even call in loans early. This means they may make it really hard for you to get funding for example by requiring 100% debt coverage, rather than 80%.
This may slow down your ability to get construction started and thus finish your project and get paid! You may need to figure out whether paying higher costs to get access to funds quicker is worth it for the time you save to complete your project and move on. You should be able to work with a good finance specialist or broker to figure out these scenarios.
There are always options for getting capital they just come at a cost. If you are needing help with getting your finance sorted for your next project then get in touch with Gayle at Stapleton Pacific and see if she can help you out.
Join me on Instagram at https://www.instagram.com/property_developer_podcast/ where I post my property developer porn pics or head over to iTunes to leave a review of the show.
Thanks for listening in and until next time remember the golden rule, whoever holds the gold makes the rules…
Justin's latest project pics