---
Podcast: Play in new window | Download
Subscribe: Apple Podcasts | Android | RSS
---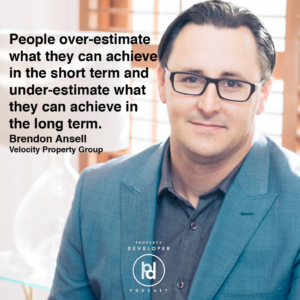 Understanding when and how to accelerate your property developing business can be the difference between going to the next level or going bust.
So I speak with Brendon Ansell from Velocity Property Group about how and when he accelerated his property development business. I think you will enjoy some of the insights that Brendon will share with you.
Brendon is doing some great developments and is really ramping up his business, which is exciting to see. Brendon moved from South Africa to Brisbane in the 90s and started out with $50 in his pocket. Today his business is running around $130million in projects. That's some change!
During our conversation we talk about how you go from doing a splitter block to running multiple projects, how and when you can accelerate your developing enterprise, and how to create a strong foundation for your future business.
We also touch on what to do when you have three staff members all with the same name.
Lessons for Property Developers
What a great story about a guy landing in a new country and really making a go of it. I really enjoyed speaking with Brendon, I took a lot away from our chat.
1. Give yourself five years to understand and learn your property developing business
I think the biggest idea that stuck out for me was this notion of giving yourself five years to understand and learn your business. It is in these early years that you can really lay the foundation for a strong, sustainable business by understanding what you do best and how to do it better. Once you have that foundation set then really look to accelerate your activities from years 5-10. I think this is really solid advice, as often people can be undone by trying to do too much too soon and then falling over.
2. Find a mentor to help expand your real estate development skills
The second thing that stuck out for me was around finding a mentor. The right mentor can give you perspective and ideas that can help you grow and learn. So find someone who has achieved what you would like to do and emulate them. They can help you see beyond problems or suggest ways to solve issues. Brendon suggested joining an industry group to network with people and that may be a way for you to find someone suitable.
3. Stay focused on the type of property developments you want to specialise in
The third and final point I took from my conversation with Brendon is to be focused on the type of developments you want to do. Don't get seduced by bigger projects if you have a model that is working for you, especially in buoyant markets. It is easy to be dazzled by the prospect of greater profits but don't come undone by chasing something that you are not ready for. As I remember hearing about financial investment, earn the right to invest in riskier projects. Develop up a plan for what you want to do and stay focused on achieving it, most successful people say they succeeded by being persistent.
Links
Velocity Property Group – http://velocitypropertygroup.com.au
Don't forget to join me on Instagram @propertydeveloperpodcast for my property developer porn pics or jump on iTunes to leave a review.
Justin's latest project pics