---
Podcast: Play in new window | Download
Subscribe: iTunes | Android | RSS
---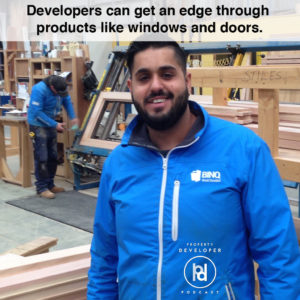 Finding opportunities to get an edge in the market and to stand out from the crowd is a great way to sell out your developments, and also to earn a reputation for delivering quality products.
So I speak with Joel Griffs from Binq Windows and Doors about how finishes can make a big difference to your next property development.
Joel contacted me a few weeks back and invited me to come down to their factory and learn about windows and doors. At first I said I wasn't sure why I, or other developers, would be too interested in windows and doors, but that I would remain open (pun intended) to the idea.
So I visited the Binq factory and had a chat with Joel. I got a lot out of it and I'm sure you will to.
During our conversation we discuss why developer's don't focus much attention on windows and doors, how you can get an edge on your competition and why Joel started a manufacturing business in the first place…
Thank you to Joel and the team at Binq Windows and Doors (www.binq.com.au) for showing me around the factory and educating me about why windows and doors can make a big difference to a property development. I have to say they do make some beautiful timber doors and windows, when you stop and notice little things in a house, like nice doors or handles, or the window frames, you begin to appreciate how many little opportunities you have to shape how the home will feel when it is finished.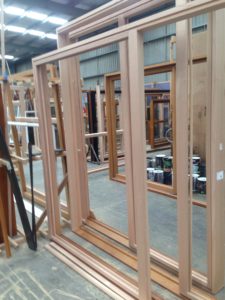 Lessons for real estate developers
I took away a couple of ideas from speaking with Joel including:
1. Explore what other building products may be available to you
Can you try a different type of door or windows, or is there a new flooring product that can give you a better result without increasing the cost. You could try calling manufacturers direct, or contact an industry body for advice on new ways of doing things. Anything that can help you stand out from the crowd will be beneficial as you try to sell your developments.
2. Explore what new construction techniques may be out there
This follows on from the previous point, but have you spoken with your builder or designer about different ways of building, or how you can build it cheaper without compromising on the end result? Perhaps an urban design body might be able to share some ideas, or jump online and see what your research can unearth. There is so much change going on in construction and building that you may be able to get a jump on a new technique in your next project.
3. Figure out how you can stand out from the crowd
Let's face it, there's lots of choice for people when they go to buy a property. How can you help people see that you are different, or that you offer better value? Is it thorough sustainable materials, is it through different finishes, maybe you use recycled rubber for the driveway, or recycled timber for your exposed beams. Whatever it is, make sure you promote it and ensure your selling agent is fully aware of it too, so they can pass it on to prospective buyers.
Join me on Instagram (https://www.instagram.com/property_developer_podcast/) for my property developer porn pics and other photos and videos I share, and I'd be grateful if you found a minute to leave a review on iTunes.
So, until next time, may all your windows and doors open to opportunities…
Links
Binq Windows and Doors – www.binq.com.au
Property Developer Podcast on Instagram – https://www.instagram.com/property_developer_podcast/
Justin's latest project pics