---
Podcast: Play in new window | Download
Subscribe: iTunes | Android | RSS
---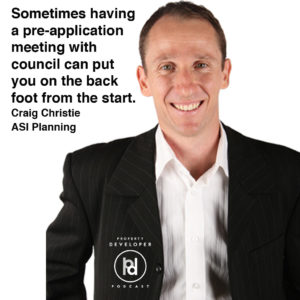 Getting your planning permit is a big step in a development project, particularly one you are happy with. Get your planning permit and you are one stamp closer to finishing.
So, I speak with private town planner Craig Christie from ASI Planning about how developers can approach the planning phase of the development process. This is one of the most important parts of the game, as this is where you can potentially set up your project for real success, and obviously getting that planning permit is a big step in reducing the risk of your development. It can make a big difference getting council to support your application rather than getting stuck and having to re-submit plans, or worse still start to lose units.
Craig provides some very useful tips about when you should use a private town planner and how to get the most out of them, some great suggestions on handling council objections, and one way you can encourage council planning officers to keep your application moving along.
I thought that was a great discussion with Craig about planning. I know the planning part can be very frustrating, particularly when council are not really happy with the direction you want to go in, or are trying to get you to scale down, but it is one of the most important parts of the game. Get your planning permit and you are one stamp closer to finishing. However, if you get a good designer on your team, and potentially a great private town planner, you will give yourself the best shot of getting something though that you are happy with.
Town planning lessons for real estate developers
I took quite a few points out of the discussion with Craig including these lessons:
1. Use a town planner who has experience in your type of project and understands the council you are dealing with
Make sure if you are using a private town planner that they have the relevant experience  working on similar projects as yours, and that they have a track record of success. I think it is also worth asking the planner how many similar types of projects he may have worked on which have failed to get a permit? You also need to find someone who is good at negotiating and communicating with council officers, as they are your key representative through planning.
2. Confirm verbally at meetings with council what has been agreed, and follow up with written notes
I think this should become standard practice for your designers and town planners so that everyone in the meeting is clear on what was agreed, and by following up with an email you also have a written trail of what took place. These notes won't always help if council subsequently changes it mind, but at least you can show at a later date if you need to, that council changed direction not you…
3.  Be smart with your concessions to council
I liked Craig's tactic of starting out with all the small points that you are willing to concede, and working backward to the biggest issues that you want council to show some flexibility on. I think this is a good idea, and certainly can't hurt. People do become aware when they feel they are doing all the taking, and you can harness this to work in your favour. Give it a try and see if it works.
Join me on Instagram (https://www.instagram.com/property_developer_podcast) for my property developer porn pics and development videos.
Links
ASI Planning – www.asiplanning.com.au
Justin's latest project video