---
Podcast: Play in new window | Download
Subscribe: Apple Podcasts | Android | RSS
---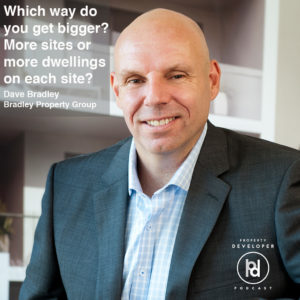 Scaling a developing business can be a challenge for many developers, however by asking the right questions it may not be the hurdle you perceive it to be.
Real estate developer Dave Bradley has managed to transition from major rental property investor to a serious property developer who has scaled his business along the way, and he shares how you can too.
Dave is probably known to many property investors as the partner of Steve McKnight, who wrote the very well known book 0-130 Properties in 3.5 years – one of Australia's highest selling real estate books. Dave featured heavily in the book as Steve's partner at the time they started buying huge volumes of positive cash-flow properties.
Dave is now out on his own, has been for quite some time, and focuses on property development. And he kindly shares some of the lessons he has learnt along the way.
Which way do you get bigger? Do you do more projects or put more dwellings on each site? – Dave Bradley
Dave spoke at a small event I attended a few years back while I was learning how to develop property, and he shared a story about he completed the Melbourne Iron Man despite some serious set backs along the way, and his message of committing yourself to doing whatever it takes to succeed really resonated with me. I really took on board that message and have often repeated it to myself along the way, particularly when things aren't going exactly to plan.
Dave shares plenty of gold that will help you take your business to the next level.
It ended up being quite a long chat so I have split the conversation in two, so tune in to the next episode to hear the second and concluding part of the discussion.
We really cover quite a bit of territory in this part of the discussion including:
– how to grow your developing business
– how to figure out which direction to take it
– and dealing with investors
Tune in the next episode to hear the second half where we discuss whether to hold onto stock, key questions to ask yourself about growing your business and Dave's top tip for developer's who are keen on taking their business to the next level.
Lessons for Property Developers
I thought Dave shared some great gems of wisdom during the conversation including:
1. Letting people get on with their specialised roles.
Don't try and micro-manage people along the way. Hire the best people you can, be clear on your expectations and then let them get on with doing their jobs. Check in along the way to make sure they are on track, but otherwise allow the experts to do their thing.
2. Think about how you want to scale your business
Dave talked about working out whether you want to more projects or bigger projects, or maybe both. Do you want to move closer to the city, or do you want stay in one area or a couple of known areas? These are the questions you need to answer if you want to grow your business.
3. If you take on investors be clear about how you will manage the relationship
Finding investors is one thing, finding the right investors is another thing altogether. Dave talked about considering what problem you are solving for an investor, and figuring out how you can promote that to them. Then you need to think about how you are going to manage that relationship, because you are going to be in contact with them for a couple of years and it could be very uncomfortable if things get off track. Remember Dave said one poor relationship with an investor put him off having investors for about 5 or 6 years. So be selective about who you partner up with.
Okay, that's it for part 1 of the Dave Bradley interview. Make sure to tune in for part 2 and find out how many rental properties Dave now owns. You can find out more about Dave at bradleypropertygroup.com.au
As always head over to the Property Developer Podcast website for past episodes, catch up with me on Instagram @propertydeveloperpodcast and see my property developer porn pics and development photos/videos, and you can also find me on Twitter and Facebook.
Links
Construction Finance Market Update from Holden Capital – http://static1.squarespace.com/static/573401fdb09f95483e15fd00/t/579eb30ff7e0abf8d8a805a1/1470018377502/Construction+Finance+Report+-+Digital.compressed.pdf
Bradley Property Group – http://bradleypropertygroup.com.au