---
Podcast: Play in new window | Download
Subscribe: Apple Podcasts | Android | RSS
---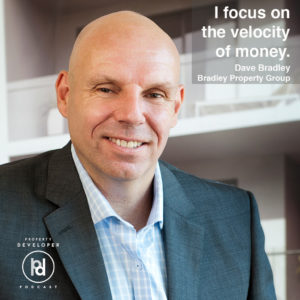 Understanding the power of the velocity of money can help property developers accelerate their net worth and grow their property developing business. Property developer Dave Bradley shares why he focuses on the velocity of money and gives tips on how you can take your property developing to the next level.
This is part two of my conversation with Dave. If you haven't heard part 1, make sure you go back to episode 21 and take a listen because Dave shares some absolute golden advice on how to grow your developing business.
And in this part we dig deeper to unearth even more bullion about how you can take your business to the next level. Dave and I talk about the questions you need to ask if you want to scale your business, what holds people back from taking the next step, and his one tip for developers who aspire to greatness.
So get your pen and paper out and get ready to take some notes. We pick up where we left off, with Dave sharing where he plans on taking his developing business….
I really enjoyed speaking with Dave and I hope you picked up some ideas and tips for taking your developing to the next level. It was awesome of Dave to share so much of his time with me, and I'd encourage you to reflect on some of the questions he posed.
Tips for property developers
Here's the points from this week's conversation that resonated with me:
1. Go as hard as you can
As Dave said, you only get one go around the board so make the most of it. If you set yourself some lofty goals, you might surprise yourself by achieving them!
2. Challenge your limiting beliefs
Most of what holds us back is our fears, or limiting beliefs – but they are simply figments of our imagination. In developing, for pretty much any situation, there's probably been someone who has already faced that challenge and overcome it. So if you are stuck thinking you can't deal with something, whether it's finding capital or sourcing investors, then you need to start asking yourself some different questions to help shift your mindset.
3. Be clear about what you want and go after it
Dave talked about being clear on what you want to achieve so that you know exactly what you are seeking, whether that be the size of deals, number of dwellings per project or return on investment. If you can articulate what you want to achieve, then you can set yourself a plan of how to get there.
Okay, that's almost it for this episode, thanks again for listening in to the show. As always you can find me on Instagram @propertydeveloperpodcast, and I'm occasionally on Facebook – https://www.facebook.com/propertydeveloperpodcast and Twitter – https://twitter.com/@PropDevPodcast. You can find all the previous episodes of the show at PropertyDeveloperPodcast.com, where you can also leave a comment for this or any other episode.
So, until next time, go as hard as you can with your developing!