---
Podcast: Play in new window | Download
Subscribe: Apple Podcasts | Android | RSS
---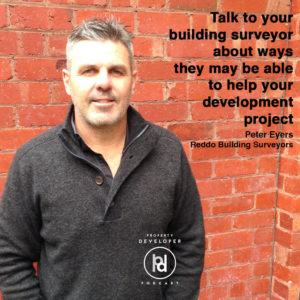 A good building surveyor will play an important role in the construction of your property development project. While they do play an important compliance and certification role, they can also add value along the way that can help reduce costs, avoid delays and deliver a better quality product.
So I speak with experienced building surveyor Peter Eyers from Reddo Building Surveyors about their role in a development project.
I haven't had much direct contact with the Building Surveyor on our project, however I know the builder and architect have had regular dealings with him. And I have come to understand that the building surveyor doesn't just have to play a compliance and certification role but can help solve problems.
In this conversation with Peter, we talk about why a building surveyor is important, what role they play in a development project and how you can get the most from your building surveyor.
Tips for Real Estate Developers
I certainly learnt that the building surveyor has quite an important role to play in your development project, and here's the lessons I took from my conversation with Peter:
1. Talk to your building surveyor about ways they may be able to help you
This is something I didn't do at the start of the project, but next time I will be having a conversation early about how the building surveyor can add value to the project, or ways they can be involved in the development process. I think a good surveyor will be able to add suggestions along the way that will help reduce cost and improve the result you get.
2. Make sure to use the right surveyor 
As Peter said, ensure you engage a building surveyor who has experience in your type of project. You want someone who has lots of experience looking over the types of product or construction techniques that you are using for your build, so that they know what to look out for or be able to provide advice and ideas on ways to improve things or problems to avoid.
3. Don't skimp on your consultants
Always try and hire the best people you can for the job, it can be tempting to go for the lowest cost option, especially for something that you may not perceive as directly adding value to your product, but the wrong hydraulic option or structural solution can easily increase cost and complexity to a build.
Okay, so that's it for this episode. Thanks again to Peter Eyers from Reddo Building Surveyors for sharing his knowledge and insights into the role of the building surveyor. I certainly enjoyed speaking with him.
You can catch me on Instagram @propertydeveloperpodcast (https://www.instagram.com/property_developer_podcast/) for my development pictures and videos, otherwise I am occasionally on Facebook (https://www.facebook.com/propertydeveloperpodcast) and Twitter (https://twitter.com/@PropDevPodcast).
So, until next time, may all your building inspections get signed off…
Links
Redo Building Surveyors – http://reddo.com.au
Justin's latest project pics