---
Podcast: Play in new window | Download
Subscribe: Apple Podcasts | Android | RSS
---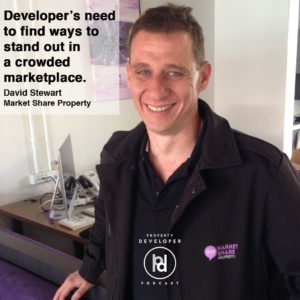 Finding ways to stand out in a crowded marketplace is key to successfully selling out project after project. So we speak with real estate agent David Stewart about selling off the plan, marketing projects and staying ahead of the competition.
David has had a long career in the property industry and a track record of selling off the plan. He is also someone who likes to try new things, and just received some industry awards and recognition for innovation and marketing.
In this conversation we talk about the keys to success when selling off the plan, where you get the biggest bang for your marketing buck, and how you can stay ahead of the competition.
Having a good selling agent on your team is really important to the overall success of the project.
Tips for real estate developers
Here's three things I took away from our discussion:
1. Try to stand out from the crowd
In a crowded marketplace you need to stand out from the competition, and there are many ways to do this. Get great renders produced to start with. I mentioned upwork.com as a place you can look to find a good renderer, or another site is easyrender.com It doesn't have to cost a fortune to get good renders down these days. You should also work on emotive copy to emotionally engage your prospective buyers, again a site like upwork.com can help find copywriters if you don't feel this is your strong point or your agents either. And of course, the overall design of your project can help you stand out, so find the best designers you can afford and deliver something of quality that people will desire to live in or buy.
2. Develop videos to promote your project
As David and I discussed, video is essential these days if you want to reach more potential buyers, and it is not that hard to create simple, yet effective videos. Whether that be animating still images with some music, or getting a production company to create a killer video, and everything in-between. I think videos with the developer explaining why they are doing the project is good, or a video with the designer and agent promoting the benefits of the project are really beneficial, and they need only be short and sharp, from 1-2 minutes long. You can then use these videos on your online listing and through your website or other sites like Facebook, Twitter or Instagram. The options are many. It's all about helping your project to standout and get noticed.
3. Research and understand what your market wants
This was David's top tip. Make sure you understand what your intended buyer is wanting and deliver up that product. You should be able to get some good market feedback from local agents about what buyers are looking for, and also if the market is flooded with a particular type of property. Though keep in mind the time it takes to get your project to market, by which time the market might have shifted and buyers wanting something different.
And remember you can check out our Instagram feed https://www.instagram.com/property_developer_podcast/ for all my latest videos and property developer porn pics.
Until next time, may all your project marketing stand out from the crowd…
Links
Market Share Property – www.marketshareproperty.com.au
Your Property Project – www.yourpropertyproject.com.au
Upwork – www.upwork.com
EasyRender – www.easyrender.com
Justin's latest project video