---
Podcast: Play in new window | Download
Subscribe: Apple Podcasts | Android | RSS
---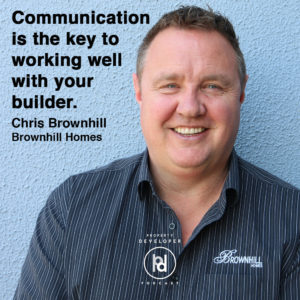 The building side of property development is one of the biggest pillars of the process, so getting it right is crucial to the overall success of your project. And the builder is a key part of ensuring your construction goes well.
I speak with builder Chris Brownhill from Brownhill Homes about building multi-unit property developments. Most of his clients are property developers who are doing multi-unit developments.
Having a good relationship with your builder goes a long way toward ensuring the success of your project.
In this discussion you will hear some ideas on how to choose a good builder, how to best work with them and some suggestions on how to manage build costs.
Tips for real estate developers
Here are 3 things I took away from our conversation:
1. Ensure you communicate effectively with your builder
Chris talked a lot about the need to communicate regularly and effectively with your builder. This is important as there are so many questions to answer and issues to resolve along the way, so you want to have a good working relationship with your builder. I think you can get a good feel for a person by speaking with them on the phone a few times and even meeting up with them to go over your project. Ask them some challenging questions to see how they respond, something like an example of when a development build didn't go according to plan and why, how comfortable would they be with a lender going through their financials, do they have any complaints or debts issues going through a resolution process, and listen and see how they react and respond. Finding a good builder that you can work with will really go a long way toward ensuring you can bring in projects on time and on budget.
2. Ask for client referrals from your builder
If you are seriously considering engaging a builder for your project, I would ask them to provide 3 or 4 developer clients that you can speak with about how they have found dealing with the builder. A good builder should be willing to provide this information to you. I would ask for developers currently doing a build, as well as people who have completed projects. Then I would ask them how they found working with the builder, whether they had any issues, how they went solving problems along the way, were there any surprises, how was the communication with the builder, and would they use them again. This should flush out whether the builder is worth continuing the discussion with about your project. If you start getting a bad feeling, then proceed with caution or not at all.
3. Seek feedback from your builder during the design phase and before working drawings are completed
Try and get the builder involved as early as possible in the discussion during the design period. They will quite often have some good ideas on ways to contain or reduce the build cost or reduce the construction time without effecting the design outcome. It is helpful for the builder to provide ideas before the working drawings get done, so that the consultants can consider different ways to build the house, such as reducing or eliminating any steel work, and helping you keep the costs down. Involving the builder along the way is also a very good way of keeping them informed of where you are at with your project, for example if you are in the early design phase, or lodging at council, or expecting a permit back very soon. This can help reduce the time it takes to move through the construction phase.
You can also find me on Facebook (https://www.facebook.com/propertydeveloperpodcast) and Instagram (https://www.instagram.com/property_developer_podcast/) to see my property development videos and pictures
Links
Brown hill Homes – http://brownhillhomes.com.au
Latest Project Pics