---
Podcast: Play in new window | Download
Subscribe: Apple Podcasts | Android | RSS
---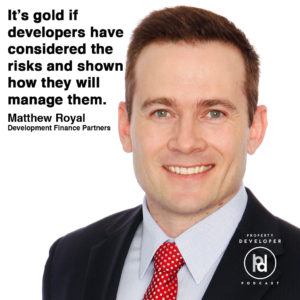 Finance is a key plank of any project and getting it right is crucial to the viability and longevity of your property developing business. How to structure deals, ways to arrange your financing and leveraging your capital and equity to maximum effect, are key to taking your developing to the next level.
So I speak with Matthew Royal from Development Finance Partners, a firm that works with developers to get their project funding sorted out. We cover a fair bit of ground in this discussion including how you can set yourself up to have a pipeline of projects to enable your business to grow, how bank's assess risk and how you can take advantage of the opportunities that present themselves in any market.
Tips for real estate developers
Here's a couple of points from our conversation that really stood out for me:
1. Set your own goals not the banks
This was a great point that Matthew made. Make sure you are getting advice from people who will help you achieve the goals and aspirations that you want, rather than a bank that is going to have different desired outcomes, probably far less than what you want. So talk with people who can develop a strategy about how you get to where you want to go, without going bust, and work with you to achieve it. I always think it is better to have good people on your team, with the right skills and mindset, who are more experienced than you, providing you are steering everyone along to where you want to go, as they will be able to overcome obstacles and help you realise your dreams.
2. Have you mapped out a future pipeline of projects
Have you sat down and worked out where you want to get to? How many projects do you want to do? What size? Where? By putting down on paper a plan, it will help you map out how you can get there, work through cycles and demonstrate to lenders and investors that you are serious about delivery. Also, if people know what you want to achieve, they can work out what needs to be done to help you
3. Consider and mitigate your risk
Matthew mentioned how lenders favourably view developers who put forward plans and proposals that thoughtfully consider risks and put in place measures to mitigate them. It's all too easy to think your project is sound, your market is rock solid and your risk of failure is low, but complacency often leads to disaster, so spend some time articulating the risks facing your project and identify the things you can do to prevent or minimise them.
Alright, there's another show almost done.  Don't forget you can find me on Instagram at https://www.instagram.com/property_developer_podcast/ for all my development videos and property porn pics.
Links
Development Finance Partners – http://www.dfpartners.com.au
Article written by Matthew Royal about bankers – What your banker will never tell you…  – http://www.dfpartners.com.au/what-your-banker-will-never-tell-you/
Justin's Project Video
Latest project video showing driveway being laid.