---
Podcast: Play in new window | Download
Subscribe: iTunes | Android | RSS
---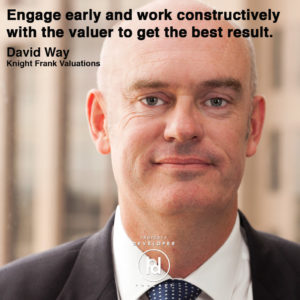 Getting your valuations right is very important for securing acquisition funding, and exceptionally important when you apply for construction funding.
The role of the valuer is an interesting one, as they are usually appointed by the lender to review your project to see if the values stack up, but they work closely with you on sourcing a lot of the reports and documents they need to complete their report.
So I speak with leading valuer David Way from Knight Frank Valuations. I enjoyed speaking with David and the discussion really helped me better understand the role they play.
We talk about how valuers approach a valuation, how to best work with a valuer and what to look out for in a valuation report.
Tips for real estate developers
I took away these key points:
1. Try to develop a good relationship with a quality valuer
Having a good valuer among your team of consultants can really help you fine tune your feasibility or strengthen your loan application. You can speak with them about when to start the valuation process, key issues or challenges to address, and what they can help with. This can make a big difference to a lender looking favourably upon your application and how it is assessed, which will help things move along as smoothly as possible. But it is good to remember that the valuation report for a lending application is commissioned by the lender, and the valuer is really appointed by them to prepare an independent valuation report, not a glossy document that makes you look good.
2. Keep all your latest reports and information in one place to provide to the valuer
The list of documents the valuers need is often really long, so I try and keep all the final reports or key documents that are prepared for me in a Dropbox folder, so I don't have to go digging around for them when they are needed. I find I refer to these reports quite frequently so it is good having them all in once place, so try to keep a copy of all your final or latest reports in an easy to access place to save you time in the future.
3. Understand what the valuer is trying to achieve
You need to remember that the valuer is an independent consultant although you can still work with them to get the best outcome. Understand that they are independent and doing a job, usually ultimately for the lender and not the developer, but that doesn't mean you can't work together to get the best result. Try and provide the latest, most accurate information you can, and keep them posted if anything changes. It's in your best interests to try and make their job as easy as possible.
I hope you enjoyed that conversation about valuation. I certainly enjoyed bringing it to you. Don't forget you can always find me on Facebook (https://www.facebook.com/propertydeveloperpodcast) and Instagram (https://www.instagram.com/property_developer_podcast/).