---
Podcast: Play in new window | Download
Subscribe: iTunes | Android | RSS
---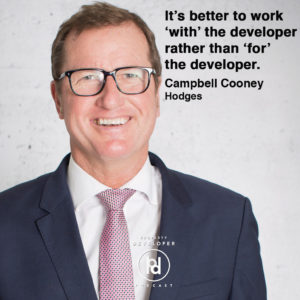 Finding a good selling agent to help sell your development stock off the plan is crucial to getting your project sold profitably, started as soon as possible and settled with minimum fuss.
So I speak with Campbell Cooney a Director of Hodges in Brighton about selling property.
Campbell has been in the real estate industry since the 80s, so has lots of experience. We have a good chat about how you go about marketing projects off the plan, how to give the market what it wants, and what materials and information you need to have ready when you start selling your project.
I always find it fascinating speaking with agents about how they go about selling property off the plan, as they usually have some good tips and insights into how best to get a sale.
Tips for Real Estate Developers
Here are a couple of lessons I took away from my discussion with Campbell.
1. Work with the agent
Campbell mentioned how it is better to work with the agent not for the developer. And I think if you can develop a partnership approach with the selling agent then you will get a better result. Involving them in design discussions or seeking their feedback on market wants is a great way to tailor your product to what the buyers want, not what you think they want, or what you like. And this leads in to lesson 2
2. Figure out who your buyers are
I am sure many developers assume they know who their buyers are and what they want, and possibly they do, I know I was quite surprised by the mixture of buyers when I met some of them at the inspections, there were groups of buyers that I had't expected to buy in the project. Selling agents are at the front line of the market, speaking with people every day and hearing what they like or dislike. So tap into that market intelligence and give the buyers what they want, or find ways to incorporate differences in your offering to what other projects may have. Make it an easy decision for a buyer to choose your development!
3. Have the answers for the most common questions
Campbell talked about being ready with the most common questions he will usually get from buyers, things like ceiling heights, finishes, owners corporation fees etc so have that information ready for the agent when the project is going to hit the market. It can be easy to gather that stuff along the way rather than at the end when you are madly trying to launch the selling campaign. Check with your selling agent about what information they might like and how it can be presented to them, and also how it might be given to the buyers. If the agent can quickly answer these questions it will help to overcome objections and build trust.
Remember you can find all the past episodes of the show over at www.propertydeveloperpodcast.com including other conversations I have had with selling agents, so if you are interested in selling then try episode 24 with David Stewart, episode 9 with Tony Smith and episode 6 with Sam Gamon.
Don't forget to catch all my latest developing photos and videos on Instagram at Property Developer Podcast. (https://www.instagram.com/property_developer_podcast/)
Links
Justin's project wrap up video – https://www.youtube.com/watch?v=7t0bEykC65U
Campbell Cooney profile – http://www.hodges.com.au/campbellcooney/