---
Podcast: Play in new window | Download
Subscribe: iTunes | Android | RSS
---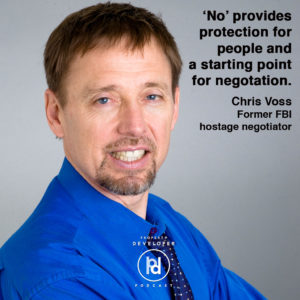 Wouldn't you love to always negotiate great deals. Secure that awesome parcel of land at a great price and on great terms. Get a buyer to pay top dollar for one of your properties.
Well in my discussion with former FBI hostage negotiator, Chris Voss, you can learn how to do all those things and more.
Chris has written a book called Never Split the Difference, a fantastic resource that I highly recommend you buy and read. It is filled with practical ways to negotiate better deals and is coupled with incredible hostage stories and real life examples of how to apply the ideas in the book.
And they really do work, as I have been road testing them over the past few weeks, which will be covered in the conversation Chris and I have. And there is one amazing line you can use to resurrect dormant opportunities, keep an ear out for that one. The book really is worth getting and easily sits in my top 10 business books.
Negotiation training program for property developers
Chris and I are working on a training program for property developers to help them become gun negotiators, so if you are interested in participating please email me justin@propertydeveloperpodcast.com and let me know what you'd want to get out of it and situations where you could do with some help. For me it is things like dealing with selling agents, navigating through the planning process, dealing with lenders and handling buyers, so all the key areas where as a developer you need to be an effective negotiator.
Just think about the money you could save and the deals you could pull off if you were a top class negotiator. And if you aren't getting better at negotiating then your competitors certainly will be, and your counterparts will keep getting the better of you.
In this discussion we cover some incredible tips on dealing with selling agents, the biggest mistake most people make when negotiating and how 'no' is a very powerful way of framing discussions.
This is a fascinating conversation, so get your pen and paper ready, and let's hear what hostage negotiator Chris Voss has to share about negotiation…. as usual I started off by asking Chris what food he could eat until he was sick…
Top Lessons for Real Estate Developers
There were so many great points that Chris made, but here are three things that I learnt from speaking with Chris and reading his book:
1. Have a plan before you start your next big negotiation
Over the past few weeks I have been doing some preparation before I begin a negotiation, so I figure out what the outcome is I want, I have some key questions I want to ask, some tips on things to do like mirroring and labelling, and I have found it to be very effective. Having a plan of what you want to achieve and a simple map of getting there, will surely lead to better outcomes more often. In the back of Chris' book he provides a framework for mapping our your negotiation discussions. That alone is worth the price of the book.
2. Don't be afraid of 'no'
I have to admit that before I read Chris' book that I tried to avoid no's, but now I can see that they can be very powerful, and that there is a big space between 'no' and 'yes', No provides security and cover for people, and if you know that you can begin to work from there. Getting a no actually helps to provide some boundaries and guidelines for how to progress the discussion. So don't be afraid of no!
3. Try some of the techniques
I really recommend you buy the book and practise the techniques that Chris points out, some of them, like asking people if they have given up, seem counter intuitive but they work.  And you can try them on smaller scale negotiations, like I did when buying some new dining chairs. I really think you are doing yourself a disservice if you don't buy Chris' book, as your competitors and counterparts will, and they will be in the drivers seat on the next negotiation.
Don't forget you can find me on Instagram (https://www.instagram.com/property_developer_podcast/) and Facebook (https://www.facebook.com/propertydeveloperpodcast).
Links
Chris' book Never Split the Difference – https://www.amazon.com/Never-Split-Difference-Negotiating-Depended/dp/0062407805/ref=sr_1_1?ie=UTF8&qid=1499328237&sr=8-1&keywords=never+split+the+difference
Black Swan Group – blackswanltd.com