---
Podcast: Play in new window | Download
Subscribe: iTunes | Android | RSS
---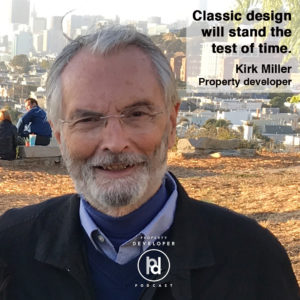 Understanding the local market means more than just the sales activity for the area, it includes being aware of any nuances related to the planning process or how long it might take to even get a permit.
In this episode I speak with a trained architect turned property developer Kirk Miller. Kirk started off his developing career in California before taking on some projects in Canada. Kirk brings an interesting perspective to the table because of his design background and also due to the challenges of developing in a place like San Francisco which presents physical constraints as well as social ones.
In this discussion we cover the key lessons that Kirk has learnt in his career, the power of timeless design and how development works in the North American markets.
Tips for Real Estate Developers
I thought it was fascinating hearing about the similar and different challenges that Kirk faces being a developer. Having recently wandered around San Francisco I can see the physical constraints of the place, being very hilly terrain in many areas, but also hearing about the political and social constraints that make it hard to get permits to develop profitable projects. Which is interesting given the housing pressure the city is facing. In many ways it reminded me of the challenges Melbourne faces, but we certainly don't have the physical constraints of San Francisco.
Here are a couple of points I took away from my chat with Kirk.
1. Understand the approval process of your area
Kirk talked about how involved the local community is in the planning process in San Francisco. This requires developers to fully engage with the people who live in the area. By understanding this you can set your timeframes accordingly and be aware of what you will need to go through to get approval, whether this is pre-application meetings, community consultation sessions or public feedback periods. You can then allow sufficient budget for re-designs or adjustments, and allocate the right time for actually getting an approval.
2. Explore how innovation can get you ahead
Kirk discussed how certain types of innovation can turn an ordinary project into a great one. Whether that is design innovation or financial innovation. Kirk mentioned how he found a creative solution to a waste issue that helped get his project a permit. So explore how you can find the right people who can really help take your project to the next level, and this really involves getting out and talking to people in the industry to find out who the best practitioners are in the field. If you keep digging you will eventually unearth the gold!
3.  If you wanna be a pro then act like a pro
So finally, if you want to be a serious developer then you need to act like a professional developer. Do your due diligence on possible sites, have the right people in place on your team, follow a process to ensure you get consistent results, and take your developing activities seriously. The people you deal with when you are doing a project, or looking to get a project started, will quickly be able to determine if you are serious or not, so if you want to be an elite developer, best start acting like one!
Remember you can catch me on Instagram at (https://www.instagram.com/property_developer_podcast/) for my latest pics and videos.
You may like to go back to my two part discussion with developer Dave Bradley, in episodes 21 & 22 ( http://propertydeveloperpodcast.com/2016/08/30/moving-from-major-rental-property-investor-to-serious-property-developer/ and http://propertydeveloperpodcast.com/2016/09/08/22-why-property-developers-should-understand-the-velocity-of-money/), to learn about the velocity of money and becoming a serious property developer.
Thanks again for listening in, and until next time 'may all your projects achieve better results than you expected…'
Links
Kirk Miller's website – www.kirkmiller.net