---
Podcast: Play in new window | Download
Subscribe: iTunes | Android | RSS
---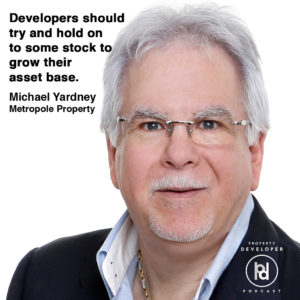 Creating independent wealth is a great way to ensure your financial security is taken care of, and property development can be great way to leverage your capital, however how do you attain financial wealth?
In this episode you will find out how property developer, investor and educator Michael Yardney has done it.
Michael, is one of Australia's best known property commentators and investment adviser, he has written eight books on property investing and wealth creation, and publishes a lot of content about property investing.
You can find out more about him at michaelyardney.com or Metropole.com.au
Although Michael is well known for property investment advice, it was through property developing that he took his wealth and business to the next level, and he is still an active developer today, and also provides a developing service for his clients.
In this discussion we talk about how Michael got into developing, what has changed in property over the decades, and what he has learnt along the way.
It was exciting to hear how Michael has grown and diversified his property business over the years and decades. There was plenty of wisdom shared in that discussion, and here are a couple of things that stood out for me…
Tips for Real Estate Developers
1. Can you hold onto any of your stock to help grow your asset base?
As Michael said, he's seen many developers go bust without any assets to show for all their years of work, and I know it is challenging to hold stock when developing is so cash intensive, but how often do we see the value of our finished stock jump up significantly over the short, medium and long term? I understand where Michael is coming from, and building up a foundation of solid assets that can support you later in life is certainly something worth considering…
2. Are you taking steps to continually educate yourself?
I liked how Michael said mentors don't need to be people you meet face to face. You can find mentors in books, or via blogs, or in groups. Continually educating yourself is a great way to keep your brain active, learn new techniques and stay ahead of the pack. So I'd encourage you to find some ways to keep evolving and learning.
3. Have you considered your long term future?
Leading on from the point abut holding stock, it is helpful to consider what you want your life to be like in the longer term, and then having a plan to get there. It is wise to have a destination in mind and then you can begin working towards it. Developing and creating value for 15,20,30 years and then going bust on a project which leaves you with nothing would be heartbreaking, so give some consideration to putting away 10 percent of your profits on each project into a super fund or other long term investment, to provide a cushion for your retirement.
If you enjoyed hearing about Michael's journey through property developing, you might like to go back to some past interviews with other developers, like New Zealand based developer Graeme Fan who I spoke with in episode 29, or Brendon Ansell who this year took his developing company public, I chat with him in episode 18.
Don't forget to join me on Instagram (https://www.instagram.com/property_developer_podcast/) for my latest videos and photos.
Links
Michael Yardney's personal site – michaelyardney.com
Metropole Property Group – metropole.com.au