---
Podcast: Play in new window | Download
Subscribe: iTunes | Android | RSS
---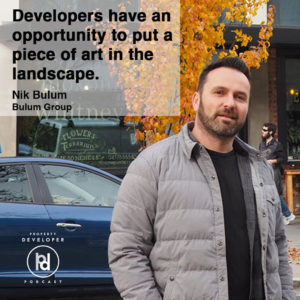 Nik Bulum is a Canberra based property developer who is delivering some amazing projects that are helping to regenerate some run down parts of the city. Nik has a slightly different pathway into developing, and this background is what helps drive his approach to his projects.
In this conversation we cover how design led projects can generate media interest and attract buyers, where you can look to find inspiration for your projects and how Nik tries to stand out from the crowd.
A couple of the projects we discussed have since been completed so check out Nik's Facebook or Instagram feeds to have a look at them, I think they look amazing…
Now the sound quality of this interview is not as high as a I usually like, as we had some technical issues, however stick with it as Nik shares some absolute gold with us.
Lessons for real estate developers
I found my conversation with Nik really inspiring because here is a guy following his heart and delivering some really amazing projects. He's being driven not solely by commercial imperatives but a desire to create something special and leave a design legacy in the area, and I really admire that.
Here are three points I took away from our chat:
1. Inspiration is a great pathway to follow
Staying inspired will keep you growing and keep the fire burning. By following your love and inspiration, you will remain fired up and interested and then I think it is inevitable that you will leave a mark on the design fabric of an area
Follow your heart and do what you love, love what you do and you will deliver projects that will inspire you and leave a legacy you can be proud of. And what can be more fun that working on an inspirational project?
2. Interesting design is a way to attract buyers
As Nik said, he attracted international media interest because his buildings were different and interesting. If you can stand out from the crowd, you will generate buyer interest, but be aware that you will also attract detractors and critics. Having an interesting design is a great way to influence and shape the character of an area, and you can find ideas in art, fashion, graphic design, music and much more. And why not put a piece of art in the landscape?
3. Find a good story for your project
Having a link to the local area or the history of the site is a great way to develop a emotional connection to your project. I've mentioned this a few times before, but human's love good stories. Nik offered some suggestions on how you can create a story for your project including looking at the history, music, artists, and cultural icons can all inspire a story and a project
If you enjoyed that chat, you may like to revisit a couple of past episodes with property developers who are doing great things. There was episode 18 with Brendon Ansell, who has since taken his company public, and episode 27 with Canadian developer Dan Barona.
And you can see all my latest property development photos and videos on Instagram (https://www.instagram.com/property_developer_podcast/)
Until next may all your projects leave you feeling inspired and leave a legacy you can be proud of…
Links
Bulum Group – https://www.facebook.com/Bulum-Group-1572596402999330/